Make the perfect eggs every time with this over medium eggs recipe. Step-by-step simple fool proof instructions to make the best over medium eggs ever!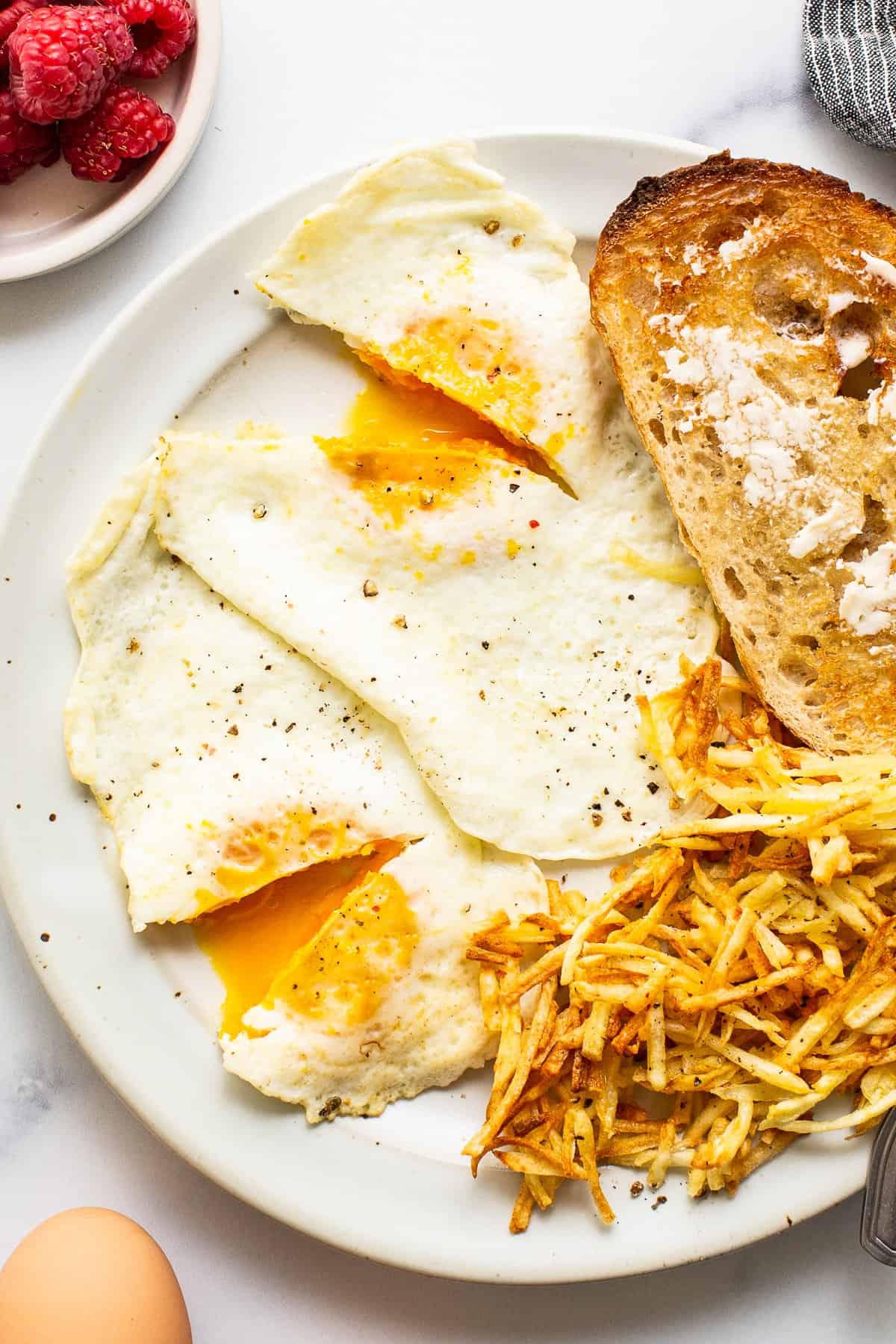 The Best Over Medium Eggs
Is there anything better than perfectly perfect over medium eggs for breakfast?! We love starting off the day with this healthy and easy breakfast — and don't worry, we'll be walking you through this over medium eggs recipe step by step. Let's get into it:
why you'll love it
Our step-by-step instructions mean you'll have perfectly cooked over medium eggs every single time 😀
We're talkin' jammy yolks and firm egg whites.
We're sharing perfect recipe pairings to round out your delicious breakfast.
Over Medium Eggs FAQs
What are over medium eggs?
Over medium eggs are when the egg is flipped during cooking and the yolk is only slightly runny.
How long do you cook eggs for over medium?
Large eggs will cook to over medium in 5-6 minutes at low/medium heat.
What do over medium eggs look like?
The yolk should be jammy, not hard. And the whites will be firm.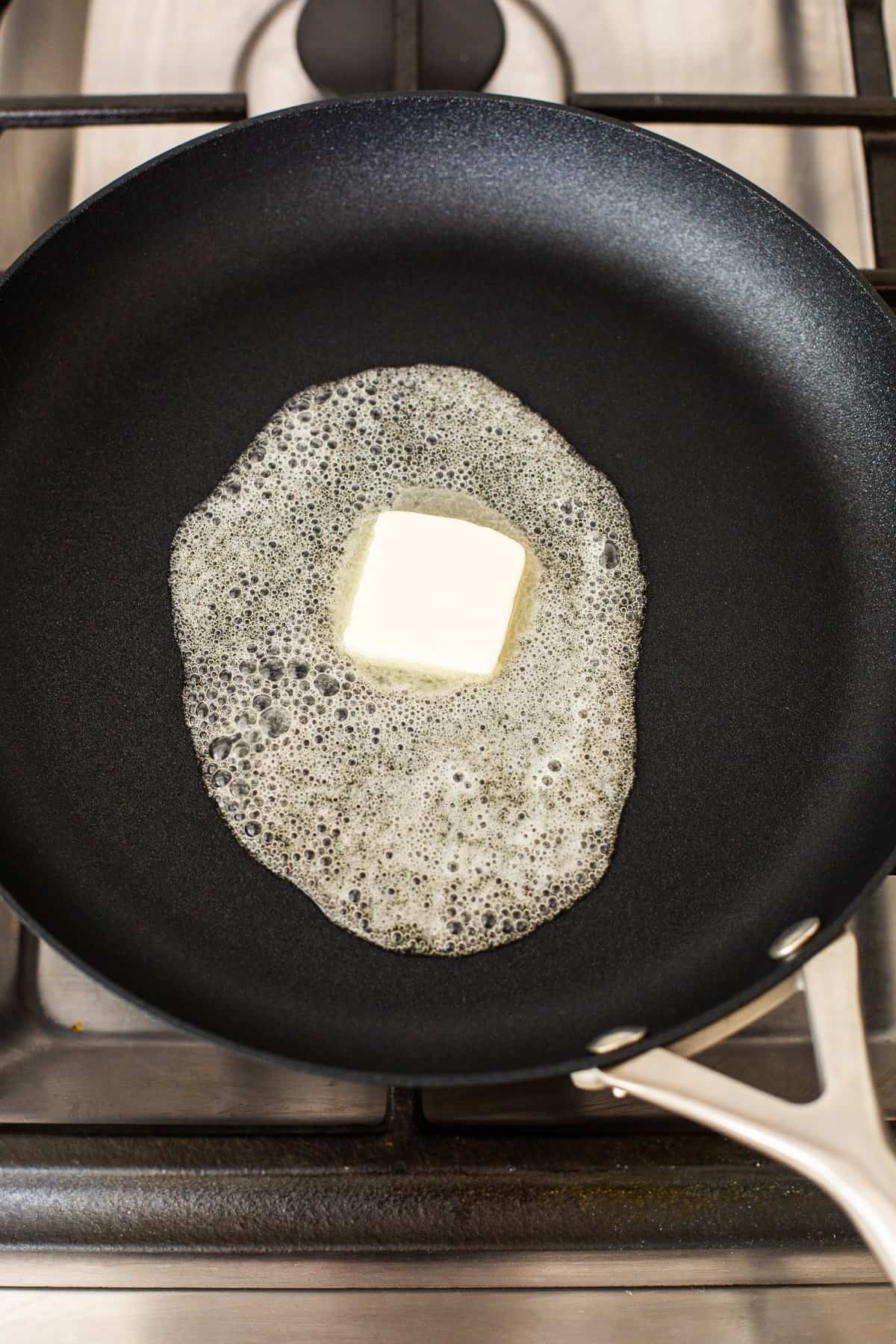 Ingredients You Need
You only need 2 simple ingredients to make the best scrambled eggs! Head into the kitchen, and round up:
Large eggs: any size eggs will do, but be mindful that smaller eggs will cook faster than large eggs!
Unsalted butter: we prefer using unsalted butter since we're serving these over medium eggs with salt. If you're using salted butter, be mindful that you may not need to add salt when serving.
You'll want to serve your eggs with salt and pepper, so go ahead and grab that too 😀
Why Use Butter?
We recommend using butter to make these over medium eggs! Oil will work, too, but will impact the taste and appearance of the over medium eggs. Here's how:
Butter: Using butter will leave you with a nutty flavored egg and minimal browning — that's what we used in these photos.
Oil: If you use avocado oil or olive oil you will be left with a bubbly egg white that has those burn, crispy edges that some people adore in a fried egg.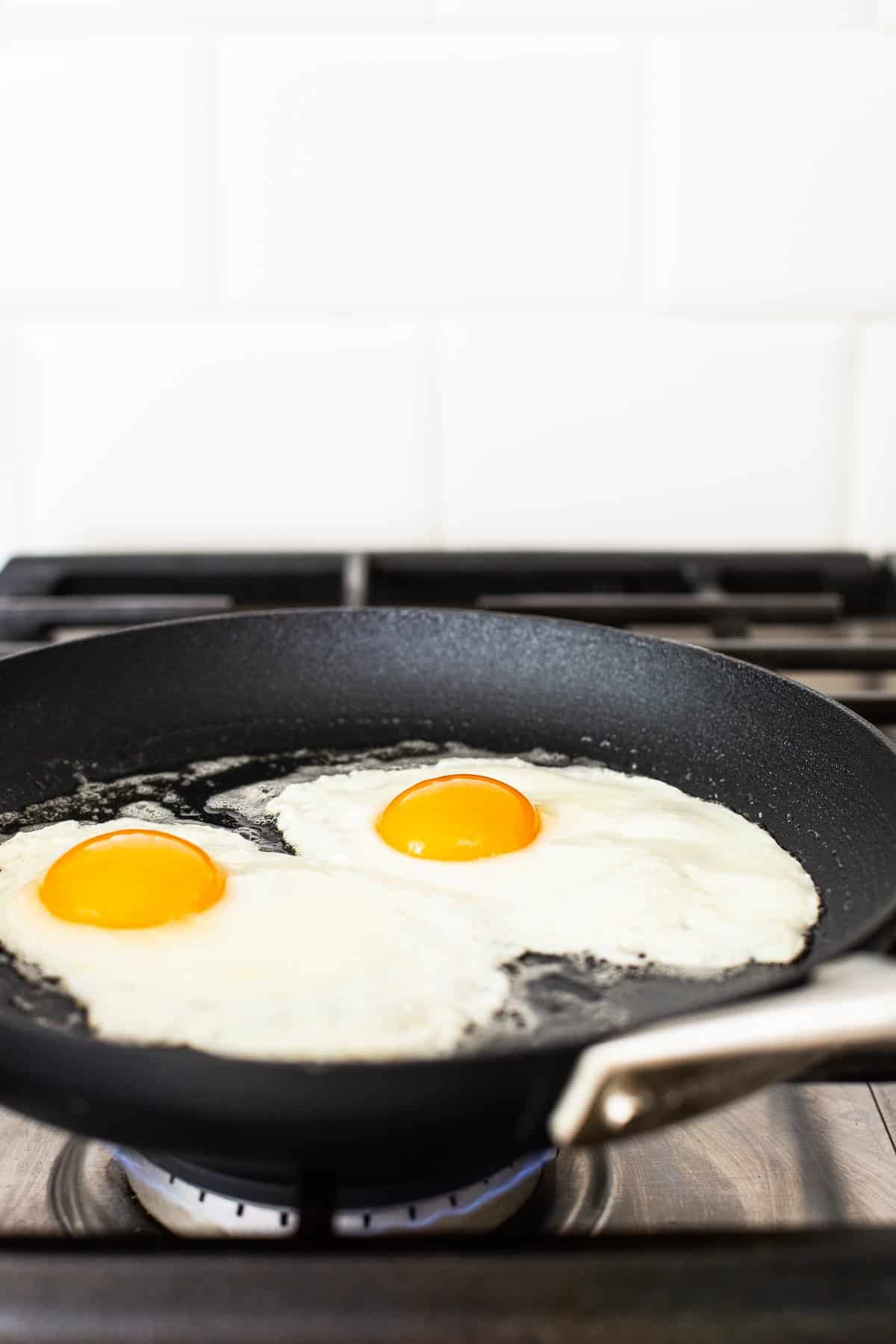 How to Make Over Medium Eggs
Prep Pan
Heat a non-stick frying pan over medium/low heat, and add butter. 
Cook Eggs
Crack: When the butter has melted, crack the eggs into the pan. Try not to overcrowd the pan with more than 2 eggs. 
Cook: Cook the eggs over medium/low heat for 2-3 minutes or until the egg white begins to set, but isn't completely cooked. 
Flip: Use a spatula to carefully flip the eggs and let the cook for an additional 45 seconds – 1 minute allow the yolk to almost cook. The yolk should be jammy, but not hard. 
Repeat & Serve
Remove the eggs from the pan and repeat with the remaining eggs. Enjoy with salt and pepper, and your favorite breakfast sides.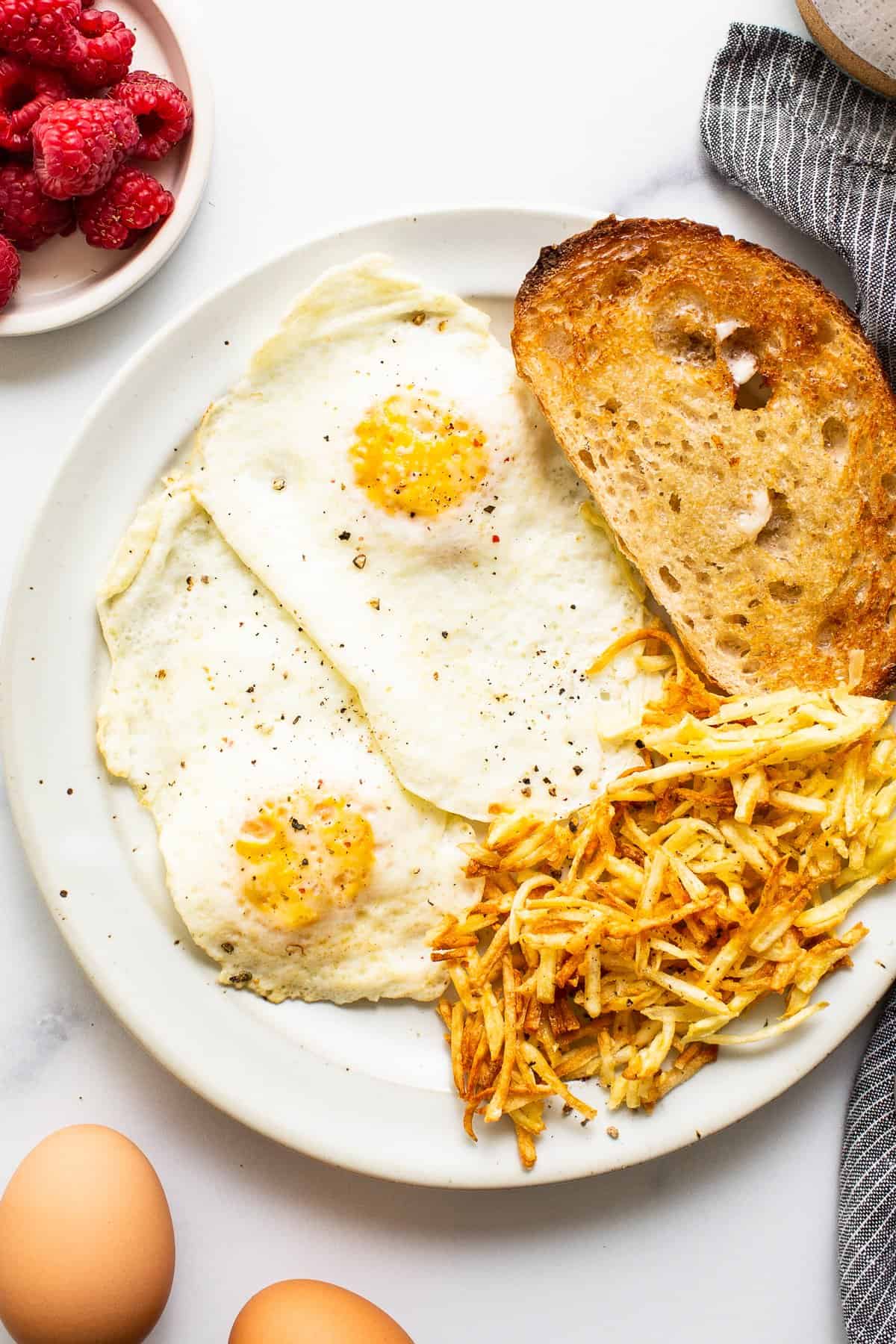 Best Pans for Over Medium Eggs
Any pan will work for making over medium eggs, but there are a few tips and tricks depending on the pan you're using:
Non-stick: a non-stick pan is your best bet for frying an egg. We love that it makes an easy recipe even easier.
Cast iron: a cast iron skillet will work because it gets hot fast and retains heat. However, be sure you have enough butter and check the edges of your egg frequently to make sure they aren't sticking to the pan.
Stainless steel: if you only have a stainless steel pan you can still use it. Just be very diligent when frying the eggs because stainless steel can heat inconsistently and have some very hot spots.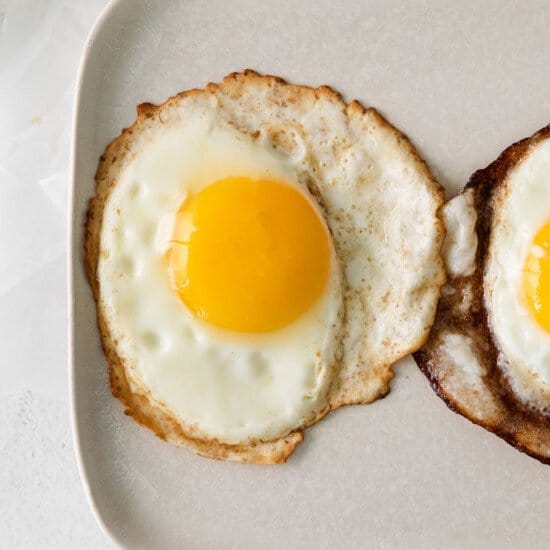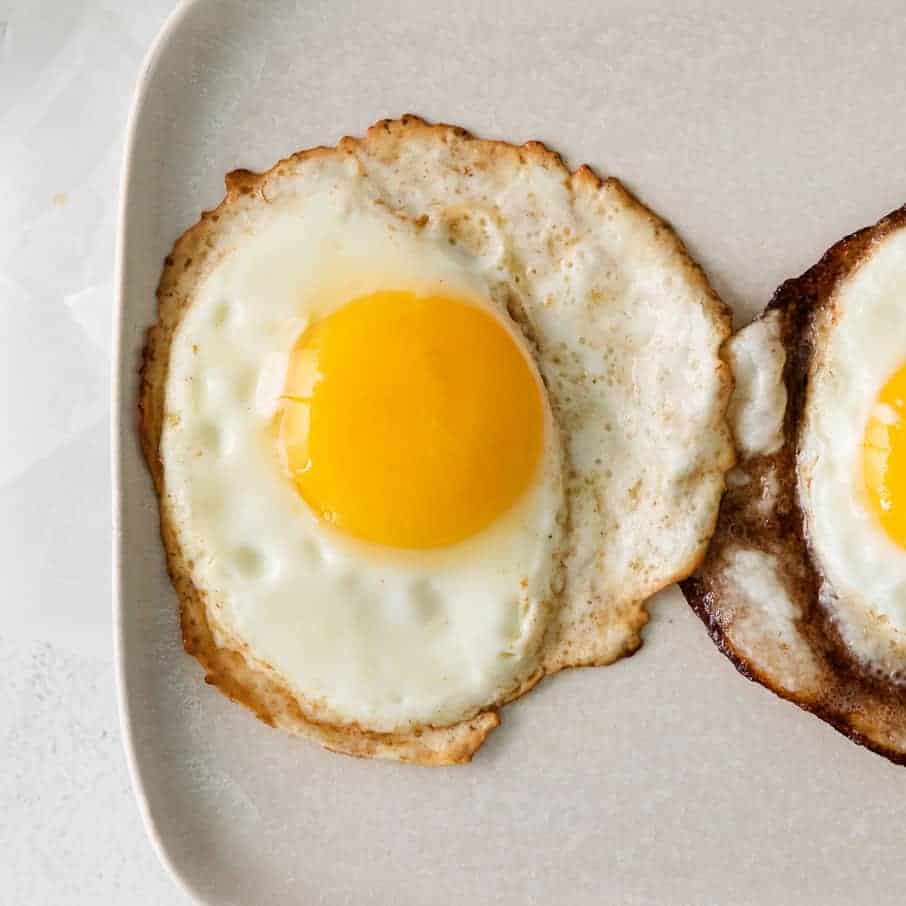 try it!
Fried Eggs — Every Way!
Learn how to fry an egg perfectly every time! We're teaching you how to make over easy eggs, over hard eggs and everything in between.
get recipe
Pro Tips for Over Medium Eggs
Use fresh eggs: Eggs are always better fresh, be sure to check the date on your eggs before frying them.
Be patient: It is easy to want to rush the process of frying your over medium egg, but the more patient you are the better your egg will turn out.
Check the edges: As your egg is frying, use a spatula to gently pull up on edges of the egg white to be sure the egg white isn't sticking to the pan.
Don't forget to season: Always sprinkle some salt and pepper on your over medium eggs. It elevates all the flavors in your dish.
What to Serve with Over Medium Eggs
Storage
These over easy eggs are best enjoyed immediately, but should you have leftovers, you can store them in the fridge in an airtight container for 3 days.
To reheat: Reheat eggs on low in the microwave to be sure you don't over cook them.