This BBQ chicken pizza is a semi-homemade pizza made with store-bought pizza crust, already cooked shredded chicken, bbq sauce, fresh mozzarella cheese, and caramelized onions.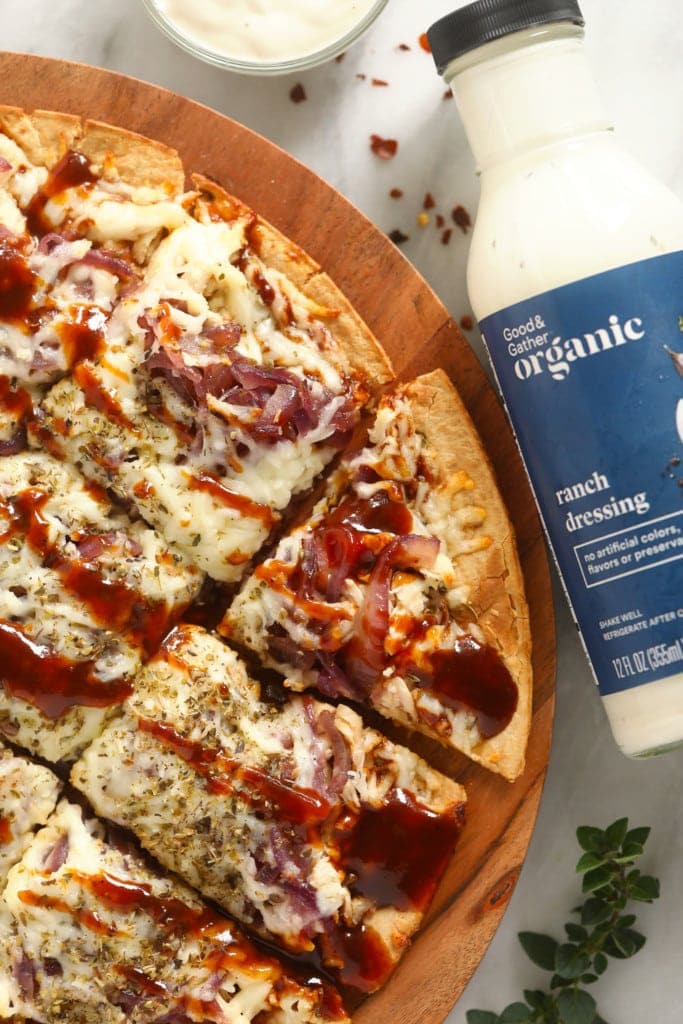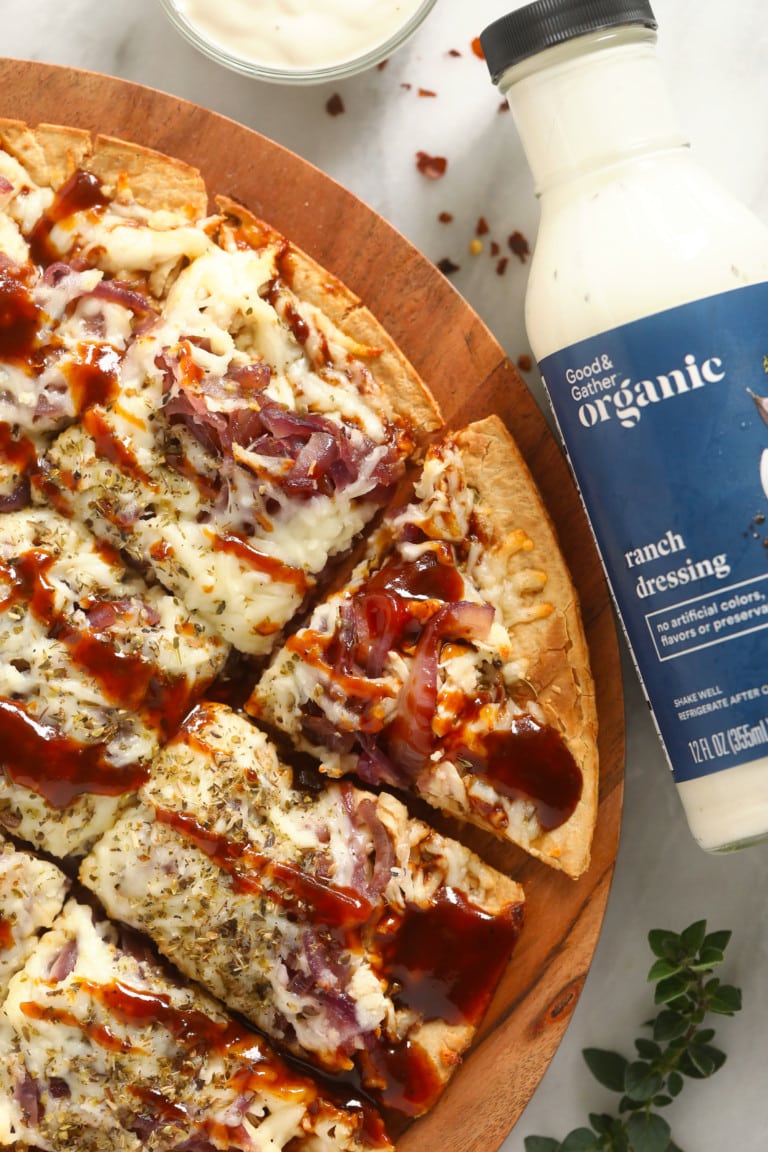 Easy BBQ Chicken Pizza
In the mood for a BBQ chicken pizza recipe? We've got you covered! This BBQ chicken pizza takes pizza making to a whole new level — no yeast required. This is a great semi-homemade and healthy dinner recipe that the whole family will love!
It is no joke that this BBQ chicken pizza is one of the easiest pizza recipes ever created. We used our favorite Good & Gather pizza crust, plus a few other delicious ingredients, too!
Good & Gather Only at Target
Today's BBQ chicken pizza recipe is sponsored by Target and their amazing Good & Gather line. Good & Gather is Target's flagship grocery brand with an incredible assortment of products. Each Good & Gather product has:
No synthetic colors
No artificial flavors
No artificial sweeteners
No high-fructose corn syrup
With just 5 main ingredients needed for this BBQ chicken pizza, you can head over to your nearest Target to pick up the full list. Here's what you need:
Featured Good and Gather Ingredients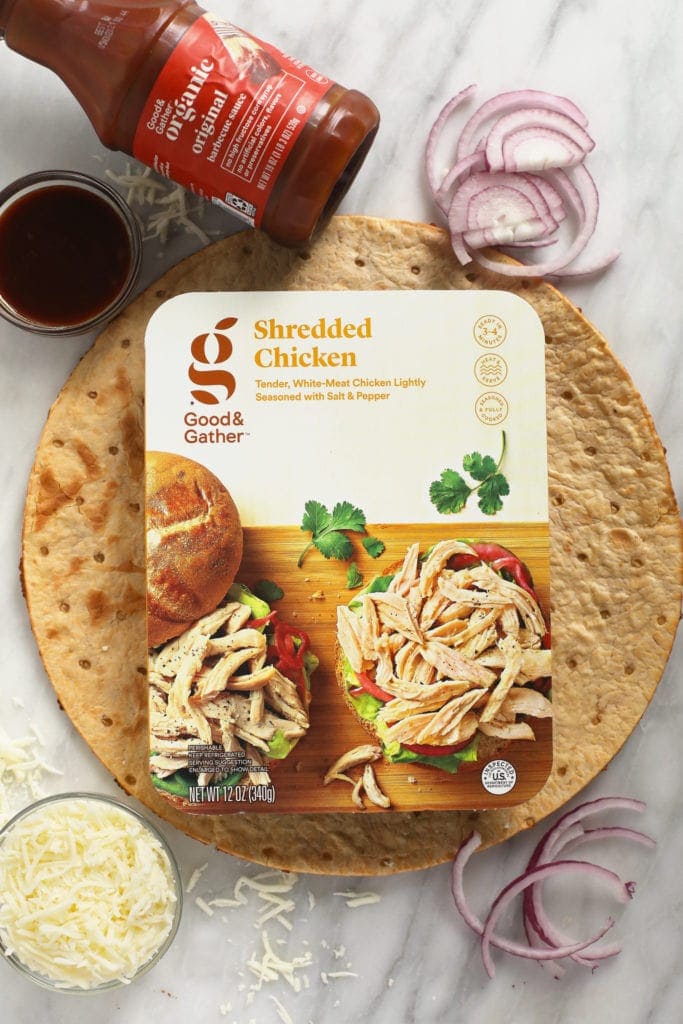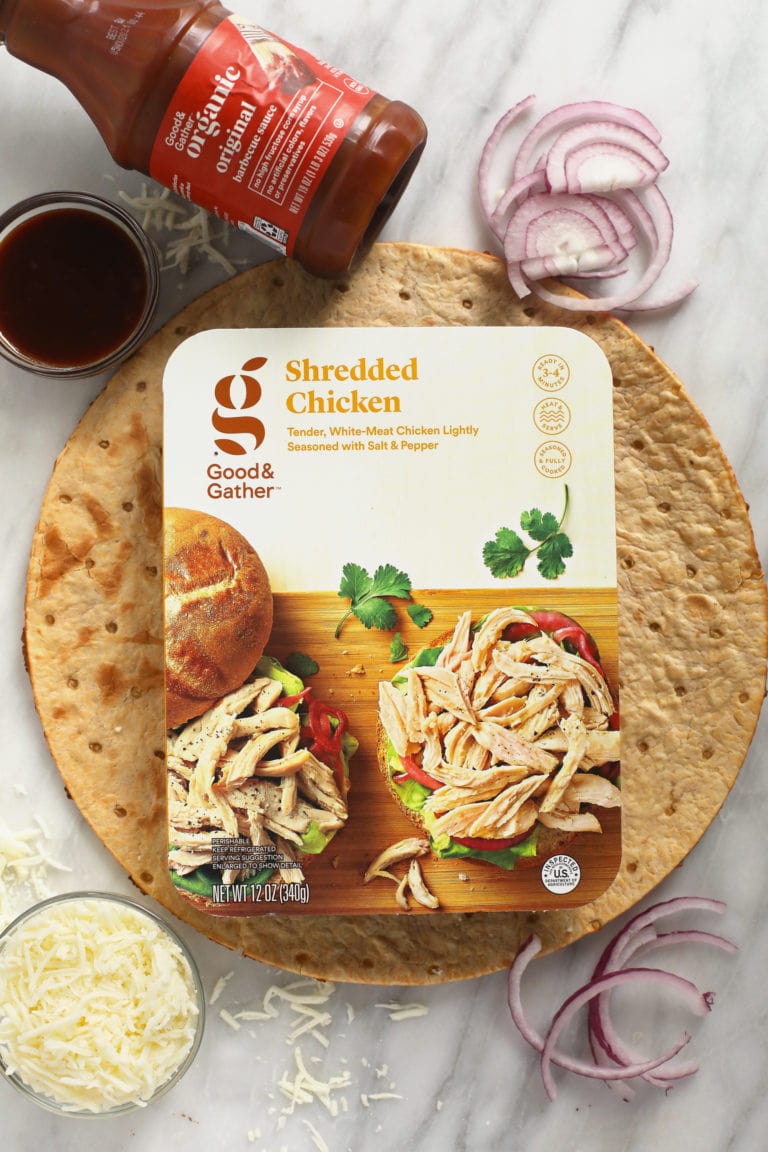 Let's Talk About Pizza Crust
Sometimes we don't have time to make homemade pizza dough and sometimes we do! This BBQ chicken pizza uses an ultra thin premade pizza crust that absolutely tastes homemade.
We love this pizza crust because it's made with whole ingredients and it gets super crispy (no soggy crust here!) in the oven.
BONUS: We also love that this pizza crust comes in a resealable bag so you can save the second one for later!
here's a tip
Need something sweet? Take the second pizza crust and drizzle it with butter, cinnamon, and sugar. Bake it at 400ºF for 8-10 minutes for a tasty sweet treat for dessert! YUM.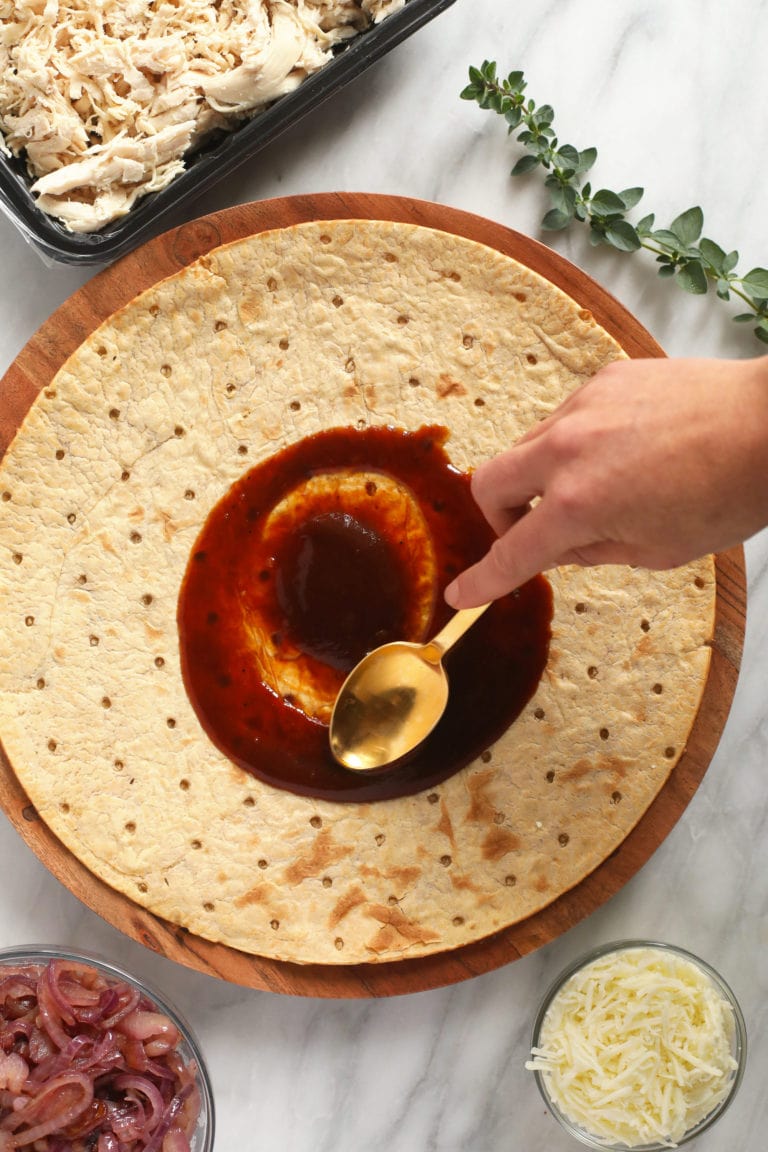 How to Make Amazing Caramelized Onions
After you slather your pizza crust with BBQ sauce and shredded chicken, you only have the caramelized onions and cheese left before you bake it.
The caramelized onions on this pizza are seriously the best! I mean, caramelized onions make every meal better and that's why we caramelized two red onions for this pizza.
To caramelize onions fast, heat a large skillet over medium heat and add olive oil (or butter).
Then, add thinly sliced onions and salt to the skillet and cook them on low/medium heat until they are perfectly caramelized.
Don't forget to stir often to make sure that the onions evenly caramelize. The onions should be a deep purple once they're fully cooked.
You can also make caramelized onions in the oven! Check out how to make caramelized onions in the oven here.
pro tip
There are a couple of things to keep in mind when you are making caramelized onions:
Do not caramelize your onions on high heat. When you cook the onions over low/medium heat, you are able to draw out the moisture. If you cook them over high heat, you could easily burn your onions before caramelizing them.
You don't want to move the onions too much in the pan. Only stir them every so often to avoid burning.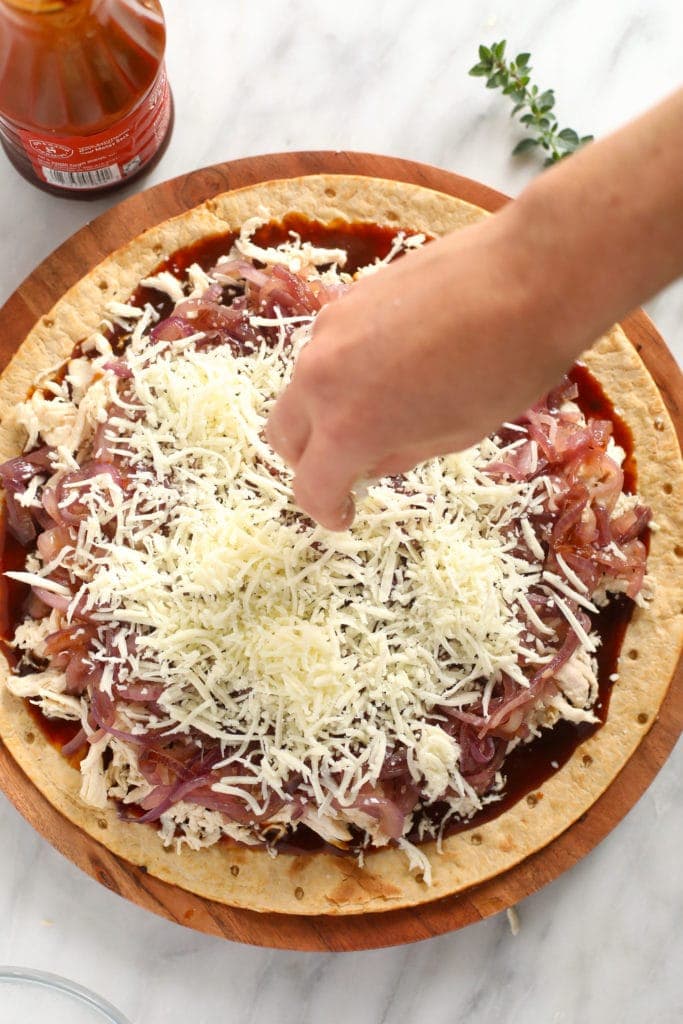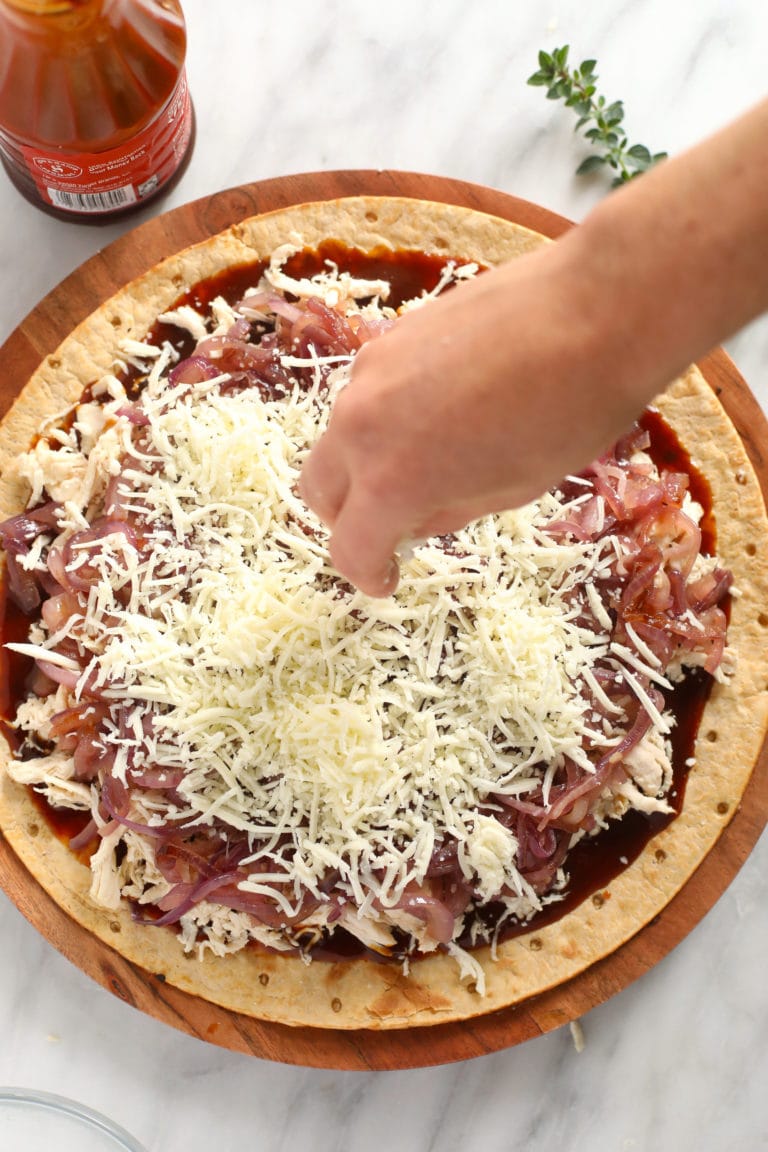 Pizza Tips + Tricks
DON'T SKIMP THE CHEESE
Though we only use mozzarella on our BBQ chicken pizza, feel free to go crazy with other cheeses. We recommend parmesan cheese, pepper jack cheese, or a fun three cheese blend. Or, you can even use all of them.
GET CREATIVE WITH YOUR DIPPING SAUCES
We used the Good & Gather ranch dressing for our dipping sauce. It is tart and SO delicious! However, you can dip your pizza in whatever you would like! Here are some of our favorite pizza dip options:
CHANGE UP THE TOPPINGS!
Though we love the toppings for this BBQ chicken pizza (chicken, onions, and cheese), you can for sure add more toppings! Try adding sliced peppers, olives, or some bacon.
FEEL FREE TO REHEAT
If you need to reheat this pizza for the next day, no problem! To reheat the pizza, preheat the oven to 350ºF and bake the pizza for 10 minutes.
CAN I FREEZE THIS bbq chicken PIZZA?
Yes, feel free to freeze this pizza!
To freeze this pizza, prepare the pizza right up until it's time to bake. Then, place the pizza on a baking sheet and place it in the freezer for an hour.
Then, remove the pizza from the freezer and wrap the pizza with plastic wrap and place it in the freezer for up to 3 months.
To reheat the pizza from frozen, unwrap the pizza and place it directly on the rack and bake at 400ºF for 15-25 minutes or until the cheese is melted and golden brown.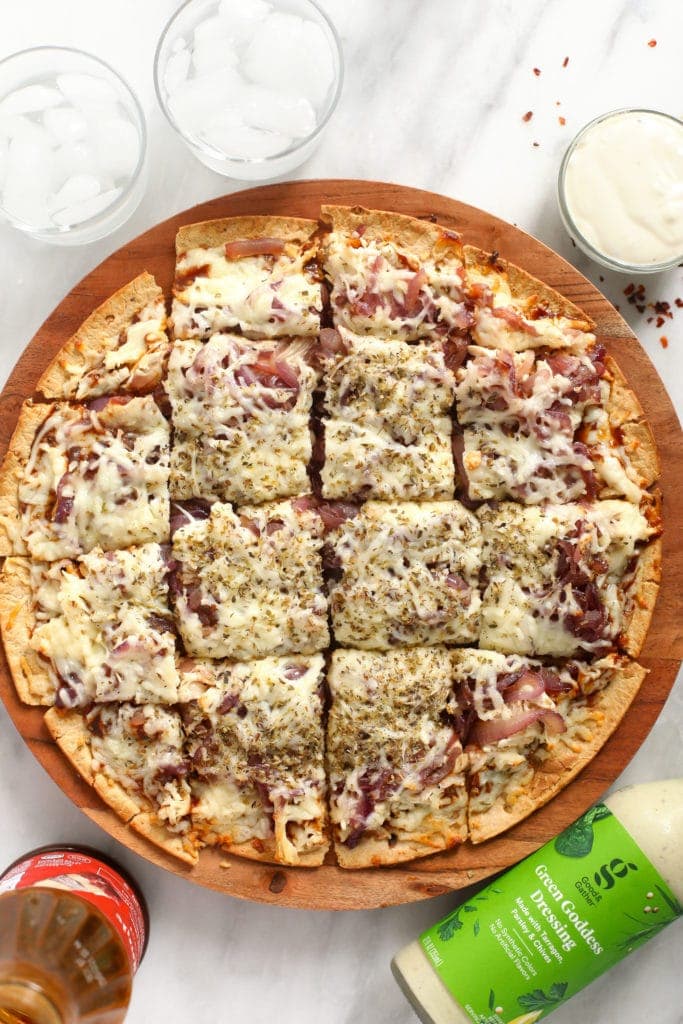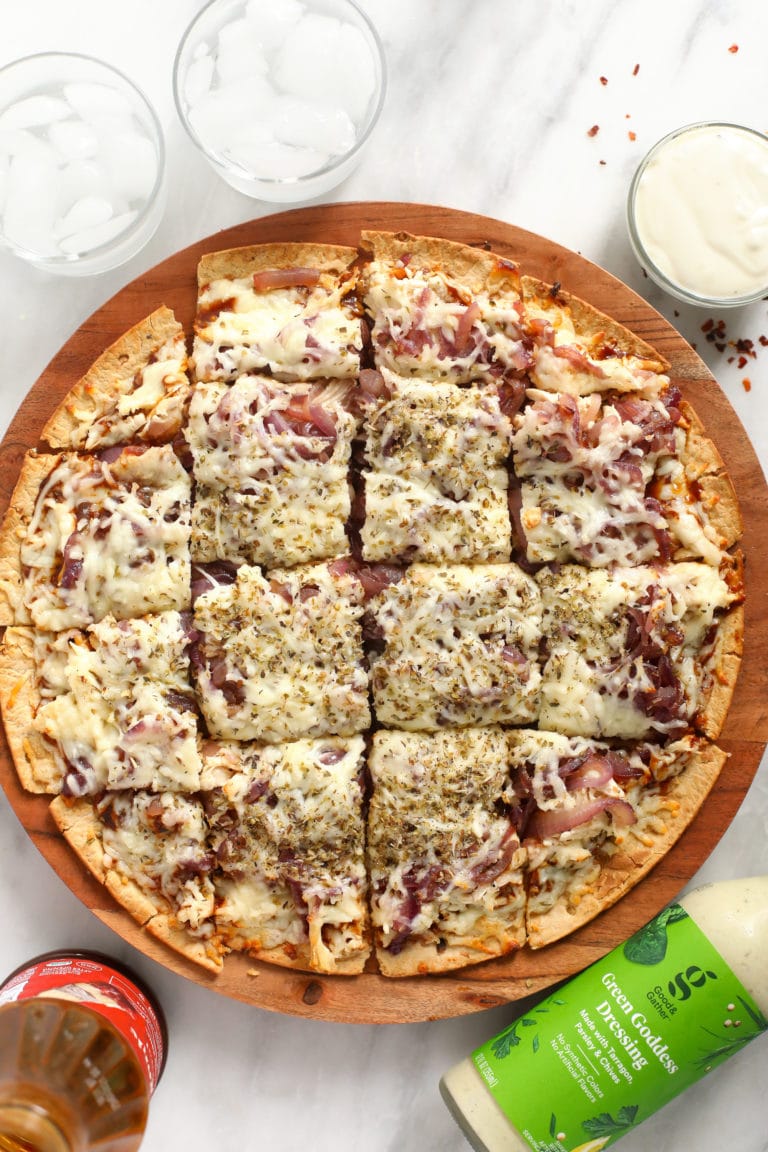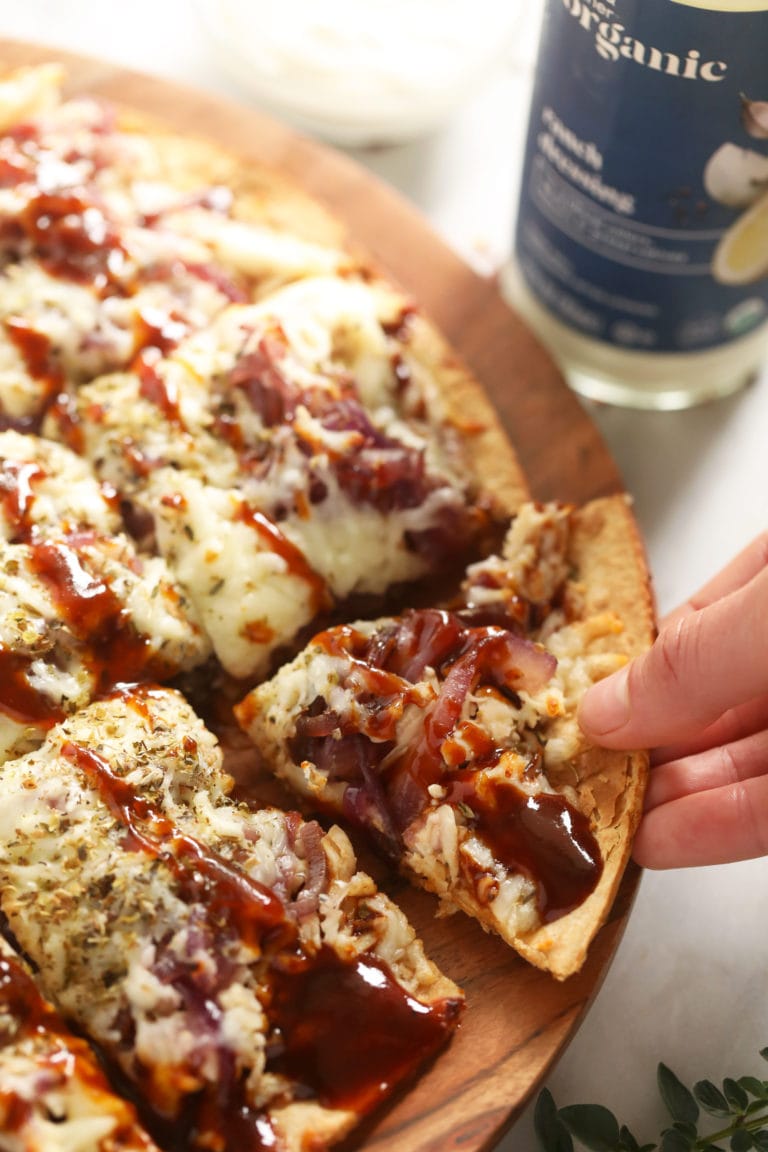 Disclaimer: This post is sponsored by Target. We were compensated and all opinions are our own. Thank you for supporting Fit Foodie Finds!