When most of us think of cruise holidays, we envision a quiet and sedentary trip at a slower pace, giving us time to relax and recharge.
Whether it's in the middle of the ocean or travelling between cities, a cruise ship seems rather low-fi, isolated from the technology and connectivity that dominates our land-based lives – but that could all be about to change.
The Icon of the Seas (opens in new tab) is the latest flagship from Royal Caribbean, one of the world's most iconic and luxurious cruise operators, and it is set to offer a holiday experience like never before, thanks to some rather spectacular technology.
The Icon of the Seas
At a mere 1,198 feet/365 meters long, and with a gross tonnage of 250,800, the Icon of the Seas will be the largest cruise ship ever launched by Royal Caribbean when it sets off on its maiden voyage in January 2024.
A maximum of 7,600 guests (alongside up to 2,350 crew) will be able to enjoy attractions such as Category 6, the largest waterpark ever put to sea; seven pools including Royal Bay, the largest pool at sea with a volume of 40,000 gallons; and the first-ever infinity pool on a cruise ship. There is also an ice arena and over forty places to eat and drink, so it seems impossible guests will ever get bored.
But under the hood, a lot of technological innovation has gone into making the Icon of the Seas not just a relaxing holiday location, but essentially a floating smart city with eight distinct neighborhoods for guests to enjoy.
"We're a city at the end of the day,", Jay Schneider, Chief Product Innovation Officer at Royal Caribbean Group told TechRadar Pro.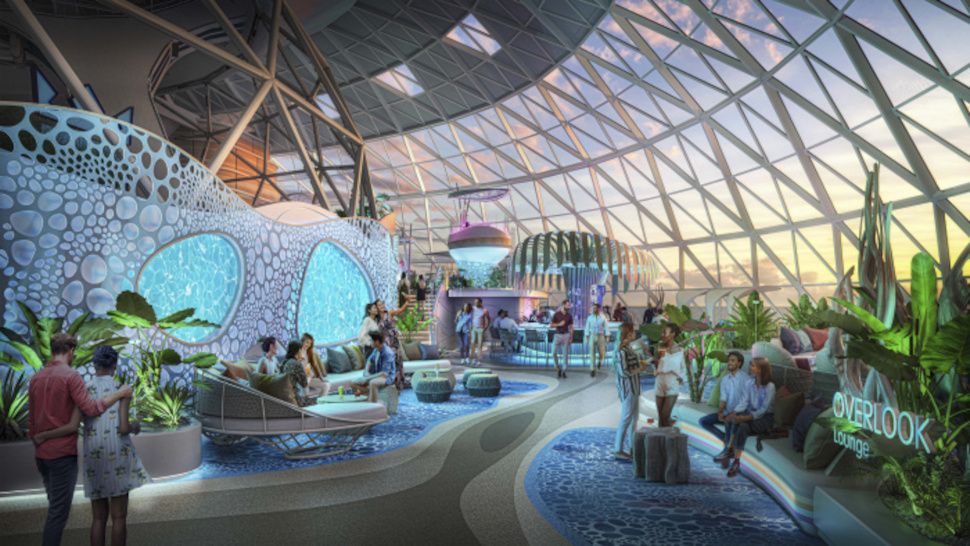 Internet and Wi-Fi connectivity is now a must-have for many of us in our daily lives, and same is true for our vacations. Whether it's keeping the kids quiet with some screen time or on-the-go gaming, catching up on your favorite Netflix series to keep up with the group chat, or even sneaking a look at your work emails, staying connected is part of the holiday lifestyle for many of us.
The Icon of the Seas obviously has a few major hurdles to overcome in terms of staying connected like a hotel or holiday resort might. 
"There's no wire following us – reliability is a challenge," Schneider notes, revealing that the Icon of the Seas stays connected to the Internet through Starlink, whose satellites ensure connectivity no matter where the ship sails. 
The partnership means Royal Caribbean Group is the first cruise line to implement Starlink to provide a high-speed, low-latency connectivity for guests and crew fleetwide.
"The idea was giving guests access to high-speed internet," Schneider notes, highlighting Starlink's sheer range as a key selling point, "cruise ships go to lots of places satellites couldn't reach."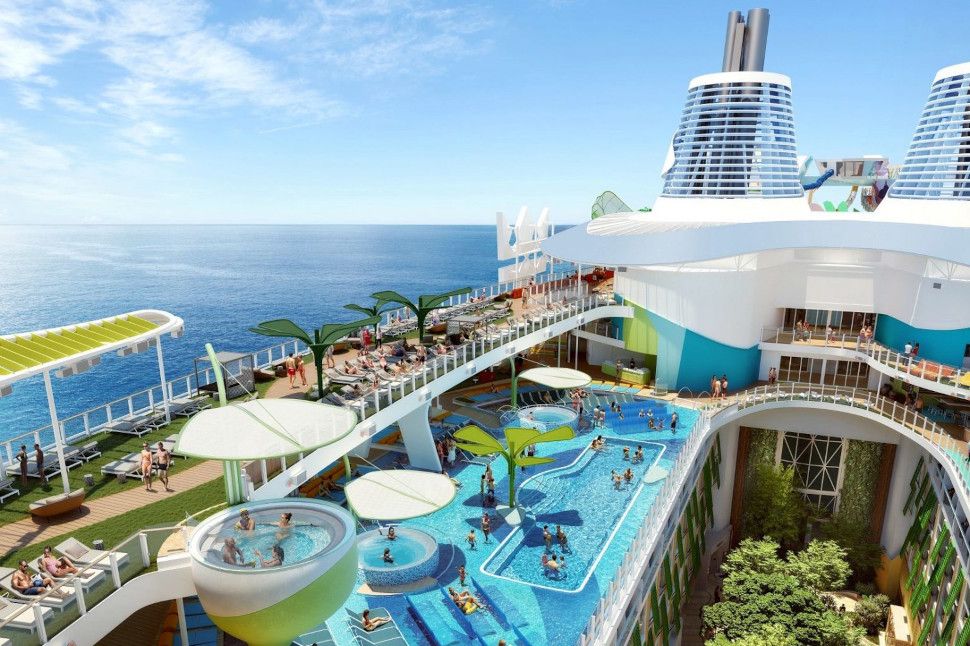 Customer service is a cornerstone of the Royal Caribbean customer experience, with Schneider noting that the company aims to take newly-arrived holidaymakers, "from car to bar in 10 minutes – we want to get you on vacation as soon as possible."
Much like boarding a plane, customers can now check in to their suite using a mobile app that uses facial recognition alongside passport scanning to remove extra friction – with roaming guest service agents meaning there's no need to head to a front desk if there are any issues.
First launched in 2018 and continually updated since, the mobile app acts as a central hub to cover most of the key touchpoints on the ship, whether that's booking a restaurant, checking what activities are on offer today, or just providing a map of the ship.
Even one of the least-loved, but most important, parts of a cruise vacation – the safety drill – has been given a mobile app makeover. Royal Caribbean says its Muster 2.0 process has been transformed from being designed for large groups of people into a faster, more personal "one-to-few" approach that guests can complete in their own time. 
Staff on the ship also benefit from the Stateroom Attendant Tool, an app-based service that is able to provide a wealth of guest information, such as booking data and any reservations they have made, in order to allow staff to have more meaningful interactions with guests.
And like many companies wowed by AI, Royal Caribbean is also testing chatbot technology in its sales and guest services, but as Schneider notes, "we want to make sure it meets a customer need, not just throwing in a gimmick, but in helping transform the experience."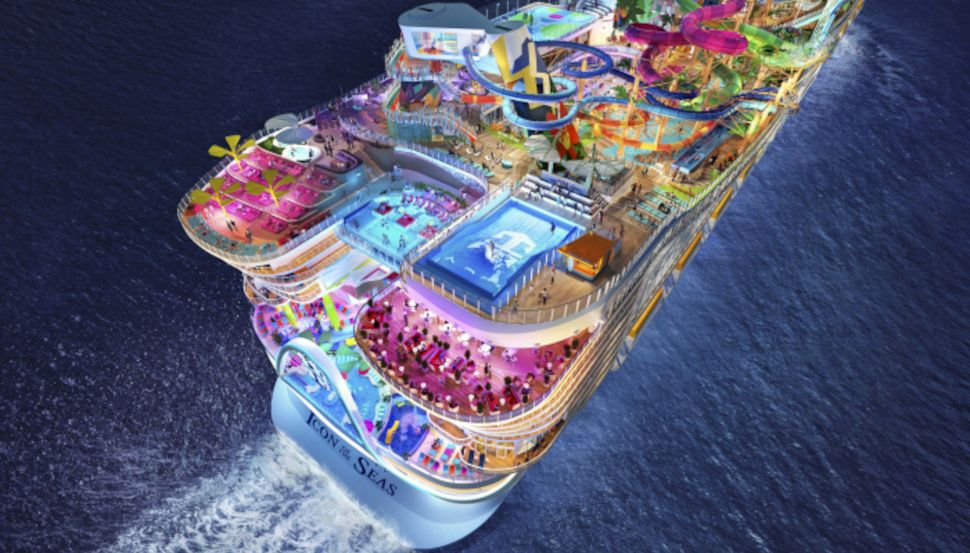 Elsewhere, the Icon of the Seas also looks to utilize technology for environmental reasons. Cruise ships have become popular targets for criticism due to their size and consumption, but the Icon of the Seas looks to make significant progress on its predecessors when it comes to being green.
As well as using Liquefied Natural Gas (LNG) as fuel, the ship is able to harness and repurpose excess engine heat, and an air lubrication system is used to create microscopic bubbles coating the ship's hull to reduce friction when sailing. Machine learning technology is also being used to optimize its route, allowing for maximum efficiency and meaning no excess fuel is used.
A wastewater treatment system is used on board to ensure water stays to regulatory standards, and 90% of fresh water on board is produced using reverse osmosis and desalination plants.
Overall, this adds up to not just a spectacular vacation, but also an experience greatly enhanced by technology, with a personal touch thrown in.
As Schneider notes, "we don't like to just shove technology in front of people, we like to keep a human involved at all times."
So come January 2024, the launch of the Icon of the Seas could usher in a new, tech-friendly era for the cruise industry, truly taking your vacation to the next level.
As Schneider says, "we believe it's going to be the best family vacation in the world."