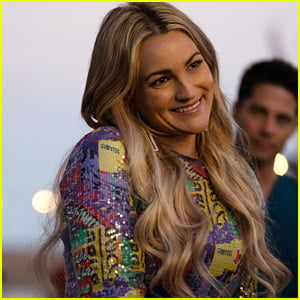 The first look at the upcoming Zoey 101 movie Zoey 102 has arrived!
Paramount+ and Nickelodeon have unveiled several new photos from the sequel movie, featuring Jamie Lynn Spears and more returning cast members.
In addition, they also announced three more additions to the cast.
Keep reading to learn more…
Here's a synopsis: Over a decade after the iconic series ended, Zoey Brooks (Spears) is still trying to figure out life and love, this time in her 20s. The Pacific Coast Academy (PCA) gang returns to Malibu for an over-the-top wedding turned high school reunion for the books.
Also returning for the movie are Erin Sanders as Zoey's best friend, Quinn Pensky; Sean Flynn as Zoey's on again, off again love interest, Chase Matthews; Matthew Underwood as Logan Reese; Christopher Massey as Michael Barret; Abby Wilde as Stacey Dillsen; and Jack Salvatore as Mark Del Figgalo.
Newly announced are Glee's Dean Geyer as charismatic actor Todd; Thomas Lennon as Zoey's boss Kelly Kevyn; and Owen Thiele as Zoey's friend Archer March.
We had a suspicion that Thomas and Owen were cast in the movie after Jamie Lynn shared some BTS photos from their time filming.
Zoey 102, directed by Nancy Hower, will debut on Paramount+ this summer. Exact date TBA.
Check out all of the first look photos in the gallery…