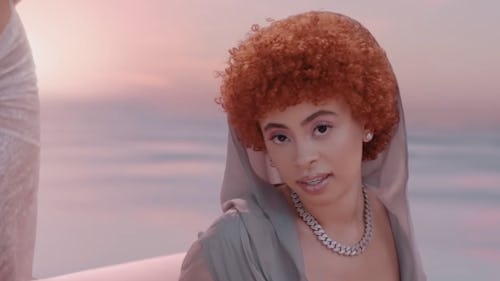 Every week, we bring you SOUNDCHECK — your destination for the best new music that hit the web over the course of the week. Because you should always be prepared when someone passes you that AUX cord. This week's roundup features 10 of our favorite emerging and established artists. Follow the playlist on Spotify.
"Karma (feat. Ice Spice)" – Taylor Swift
Ice Spice's cucumber cool flow is the perfect match for Taylor Swift's underrated Midnights cut about being besties with karma.
"Wig Splitter" – Monaleo
Houston sensation Monaleo is all confidence and big talk on "Wig Splitter," the video for which also features her, endearingly, heavily pregnant.
"666" – Anna Shoemaker
The lyrics of Anna Shoemaker's gothy "666" might require some deciphering, but her haunting appeal is immediate.
"Prophesy of the Dragon" – The Voidz
Julian Casablancas' The Voidz are back with their first single since 2018: a wavy, gritty psychedelic rock escapade about snakes and aging wizards.
"The King" – Anjimile
Think chamber music and medieval happenings when you click play on Anjimile's tremendous and ominous epic, "The King."
"7*" – dba James
"I'm 7 different people before I leave the house," croons NYC's magnetic dba James, delivering the most relatable lyric of the year.
"Set The Roof" – Hudson Mohawke, Nikki Nair, Tayla Parx
I better hear this fire flames dance collage from Hudson Mowake and Nikki Nair at every NYC rooftop function this summer.
"Mentiras" – Mariposa
Fluttery, breezy trap pop that's as delicate and enrapturing as Colombian rapper Mariposa's namesake.
"Nothing In This World Stays Still" – Allegra Krieger
Allegra Krieger's meandering, folky music sounds like the ink from her pen is still drying as she sings.
"idontlisten" – 3l3d3p
"No I don't listen to what they say," monotonously raps L.A.'s 3l3d3p, a life motto that extends to her hyperkinetic, break-the-rules sound.
For more, follow Soundcheck on Spotify.