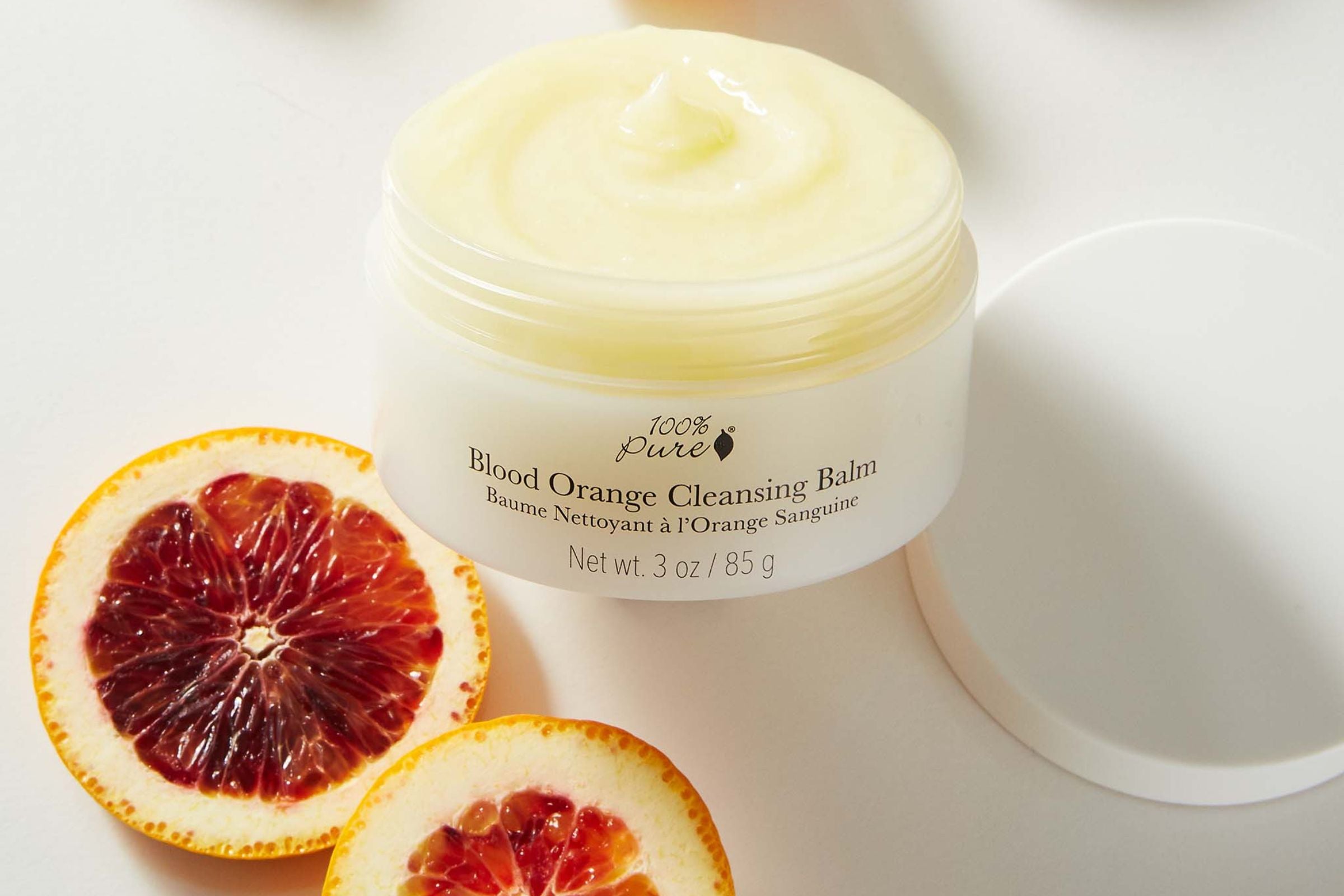 You can say a cleansing balm can be a balm for you in trying times when your skin needs to be thoroughly cleansed and moisturized simultaneously. That's right! Those tedious, extra steps to remove your makeup and wash away every impurity without stripping your skin can all be combined with a cleansing balm.
It might sound like an oxymoron; a balm that cleanses? And in a way, it kind of is a skincare oxymoron – the best one you'll try! Let's burst the bubble on cleansing balms and their rise in popularity in the beauty world – plus the best hacks to get the most out of your balm!
Back to Basics: What is a Cleansing Balm?
Back in the day, there was once a time when we all thought swiping a makeup wipe across the face was enough to cleanse our skin. In fact, for some of us, this might have been our entire skincare routine. Perhaps you ended up with breakouts from grime left behind but blamed that greasy burger and fry lunch. Maybe the clingy grime did no skin crime and your complexion got off scot- and spot-free.
As time, makeup, and skincare routines have evolved, so have the products and their effectiveness in addressing our skin's needs. With more makeup and skincare products being layered on, the more rubbing, tugging, and scrubbing it can take with a regular cleanser to thoroughly cleanse the skin. As a good partner in crime, a cleansing balm goes in and solves those skin woes with one gentle, effective product.
As opposed to non- and foaming cleansers that lift and flush dirt, makeup, and impurities from your face, cleansing balms can help with heavy-duty makeup removal, degreasing, and softening the skin. These multi-tasking gems have made a splash in the beauty world, thanks to their ability to both cleanse and moisturize at the same time. Luxurious ingredients you'd typically find in a creamy balm include organic coconut, avocado, olive oils, and other skin-loving vitamins.
A cleansing balm is made with oils that tend to solidify, giving it an initial buttery texture. But once it melts onto your skin, it is incredibly rich and luxurious, leaving skin feeling supple and soft. Don't be intimidated by using oils to cleanse your skin. They're beneficial for all skin types, even oily skin! When applying the cleansing balm, the oils melt into a silky texture that won't clog pores. Plant oils are also effective cleansers and can soothe acne-prone skin.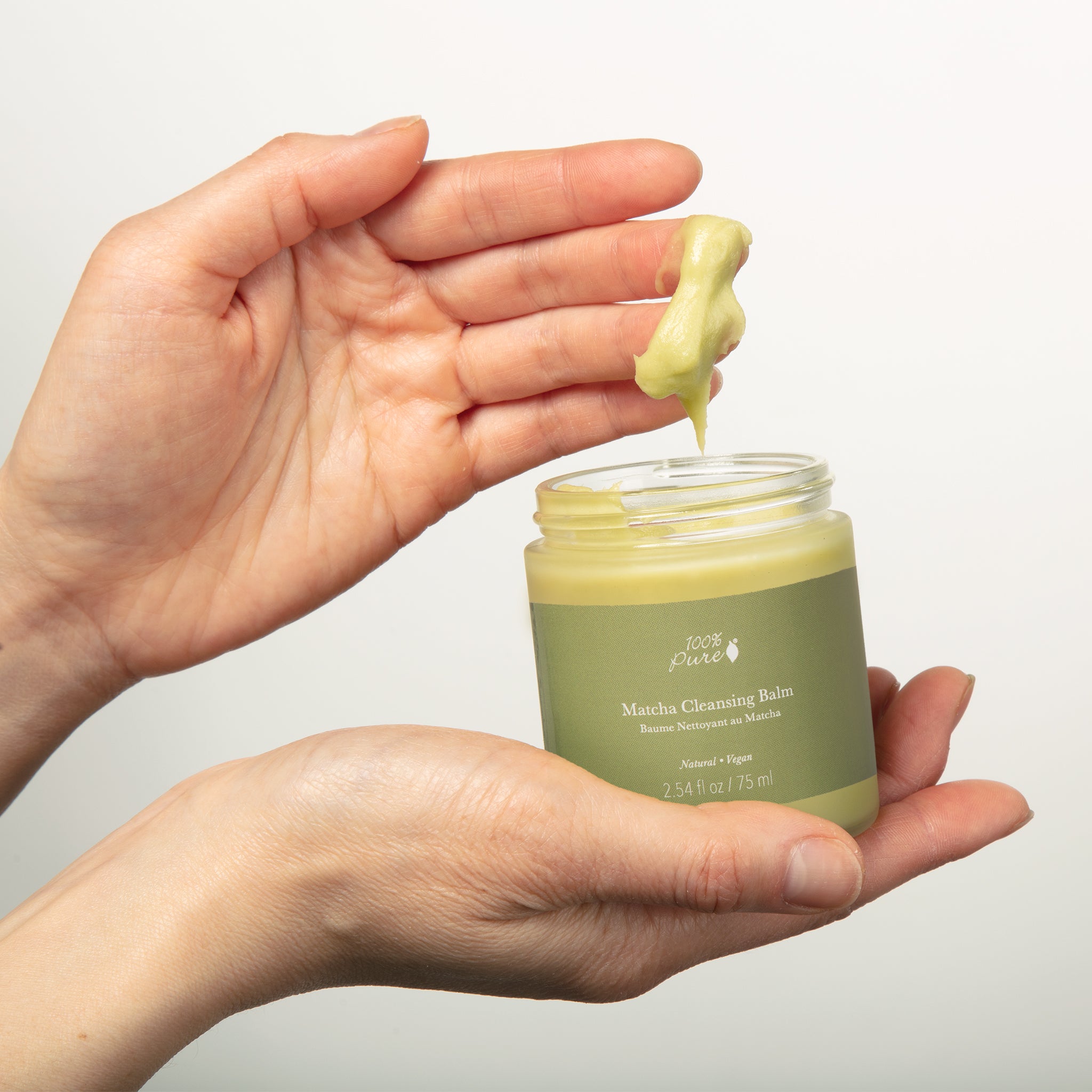 The Beauty Hacks Revealed
When it comes to makeup and skincare routines, maintaining the KISS – Keep It Simple and Streamlined – principle will make it less like a bore and a chore and more of a score! That's where beauty multitaskers like cleansing balms shine bright and, also, shine light on the beauty scope that they can double and triple as so much more.
Find out how you can use a cleansing balm for much more than just melting your makeup and cleansing your skin. These beauty hacks will help you to get the most out of your balm!
#1. Use as a Cleanser
You might splash your face with cold water for a morning jolt or mix water with your cleansing balm – but don't pass go or collect. When washing with a cleansing balm, be sure to start with a dry face. We want the product to melt into our skin, and not be combated by water.
A cleansing balm breaks down and dissolves the bonds of stubborn sunscreen, natural oil build-up, and unwanted impurities, while gently cleansing the skin. Simultaneously, the balm replenishes moisture levels. Your skin is immediately left suppler and nourished and without that tight, dehydrated feeling. Over time, since your skin is nourished, it's less likely to dry out, which could overcompensate and produce more oil, leading to breakouts.
In this beauty house, we're big fans of matcha. An antioxidant and anti-inflammatory queen, our Matcha Cleansing Balm features the beloved matcha green tea, which is great for clarifying pores to diminish blemishes and acne. Contributing enriching vitamin E, coconut, and shea, this deeply moisturizing balm leaves skin looking brighter and feeling pillow soft.
#2. Use as an Exfoliator
For many, a common skincare routine is as simple as cleanse, moisturize, and go! Oh, no!! Often overlooked, exfoliation is an important step in a healthy skincare routine for all skin types. Exfoliating helps to clear pores by removing the dead skin cells, dirt, and oil that can build up and create clogging complications.
So, how does a cleansing balm help? If you emulsify a quarter-sized amount of our Acai Pulp Facial Scrub between your fingers with a good dollop of your natural cleansing balm, it transforms the product's goodness into a gentle exfoliator, giving you an immediately smoother and brighter-looking complexion. This concentrated scrub is full of antioxidant-rich superfruits, for fortifying skin against environmental and free radical damage.
Over time, using an exfoliating balm stimulates blood flow, removes dead skin cells, and speeds up the skin rejuvenation processes, giving you a glow to be envied by all! Since the granules are fine, soft, and plant-based, this scrub balm is incredibly gentle on the skin, and it will effectively slough away dead skin and banish excess oil. Another bonus is the customization factor: the more balm you add, the less exfoliating it will be.
#3. Use as a Heavy-Duty Makeup Remover
Do you have a big night on the town coming up or an outdoor wedding; Perhaps you're painting your face for Halloween? Any occasion that requires some sure-proof makeup that's going to last until the last tear or scream needs a heavy-duty remover. And, yes, a powerful cleansing balm can be your BFF for that runny mascara to the wax and wane (literally) of getting those stubborn Halloween makeup ingredients off.
Speaking of no-holds on clingy makeup, our Blood Orange Cleansing Balm is a triple threat (makeup remover, cleanser, moisturizer) and a powerful first and only cleansing step in any natural skincare routine. No makeup? No worries. The antibacterial coconut oil and degreasing blood orange essential oil will grab dirt and oil from even makeup-free dry skin, giving your other products a leg-up on a smooth, prepped surface.
Moreover, you'll hit the pillow knowing that your face is thoroughly cleansed and you won't wake up to breakouts or crazy, smeared makeup. In the long run, using a powerful cleansing balm will create the dreamiest canvas to apply your other products for maximum absorption and effectiveness.
#4. Use to Double-Cleanse
When it comes to skincare, we're sometimes guilty of being maximalists – and sometimes, one cleanse just isn't enough. For fans of double cleansing, we'd go in with a cleansing balm to melt away makeup, oil, and dirt, then rinse and pat the skin dry. If you choose to incorporate double cleansing as part of your skincare routine, we recommend that you opt for an extra gentle oil-based cleanser, like our Blood Orange Cleansing Balm.
Then we'd follow with a water, foam, or gel cleanser. The combination of textures works to attack debris and bonded oils, to sweep everything off our skin and out of our pores. An immediate benefit of double cleansing is it effectively eliminates the grime, and here's why: the first cleansing step, which is oil-based, is going to draw out those impurities that are also oil-based, which includes residual sunscreen, sebum, and pollutants. Then, that second step helps eliminate everything else, like dirt and sweat.
When we don't properly cleanse regularly, grime from our world can deposit into our skin, not to mention sunscreen, makeup, and sweat. This buildup can become trapped in the pores, leading to clogging and enlarged pores, while the complexion might become noticeably dull. But when we double cleanse, the benefits over time are that we're drawing impurities out of the skin like a magnet, and it can do wonders for our complexions in the long run.
#5. Use as a Night Mask
Did you run out of your fave natural treatment mask or you're on vacation and forgot your nighttime mask to soothe dry skin from air travel? A cleansing balm can also be used as a concentrated nighttime treatment to deliver maximum soothing, nourishing, and smoothing benefits. They're deliciously rich, decadent, and nutrient-dense food for your skin.
Balms tend to be more concentrated than most moisturizers, making them ideal for restoring dry or lackluster skin. To give your skin time to absorb all the balm-y goodness, it's best to apply at night before bed. After applying a cleansing balm, allow to sit on skin for about 10 minutes.
After rinsing with warm water, you'll notice that your skin will have a healthier, glowier, and more vibrant appearance. Plus, you'll wake up feeling rejuvenated with super soft, supple, and deeply nourished skin. Have dry areas? Use a cleansing balm to spot treat for rough patches on hands, feet, elbows, and knees.
Integrating these Hacks into Your Daily Skincare
A cleansing balm will be your first step in a skincare routine – unless you're using it with an exfoliant scrub. You can start by using a clean Mask Spoon to scoop the desired amount out of the container. (We recommend a quarter size, but everyone is different.) One of the most important steps in any of these beauty hacks is to emulsify the product between your fingertips to heat the balm, turning it into more of an oily texture.
Next, gently massage it onto your dry skin and neck using your fingers or a detoxifying Konjac Sponge. The balm will melt into your skin and sweep away makeup, SPF, debris, and impurities. Even the heaviest eye makeup and waterproof makeup will melt away, so make sure to apply the cleansing balm gently to your eye area too – or your lips for stubborn fire engine red lipstick. Rinse skin with warm water.
Afterward, you can follow up your cleansing balm hack with your natural skincare products. If you practice a two-step cleansing ritual like in a Korean skincare routine, follow with a water-based cleanser like Fermented Rice Water Cleanser to brighten dull skin, or Tea Tree & Willow Acne Clear Cleanser for acne-prone skin.
However, if you're using the beauty balm as a treatment mask, reapply the cleansing balm to form a layer over the skin, relax, and allow the nourishing goodness of it to penetrate and rejuvenate your complexion.
The whole process is soothing and spa-like. The aftermath of using this rich buttery and luxurious cleanser is that your skin is so incredibly soft and supple. Your face will feel moisturized and clean. You might even find yourself using a little more makeup just so you can enjoy the balm-y goodness at the end of the day.
Newsletter
Subscribe
for more blog updates and exclusive discounts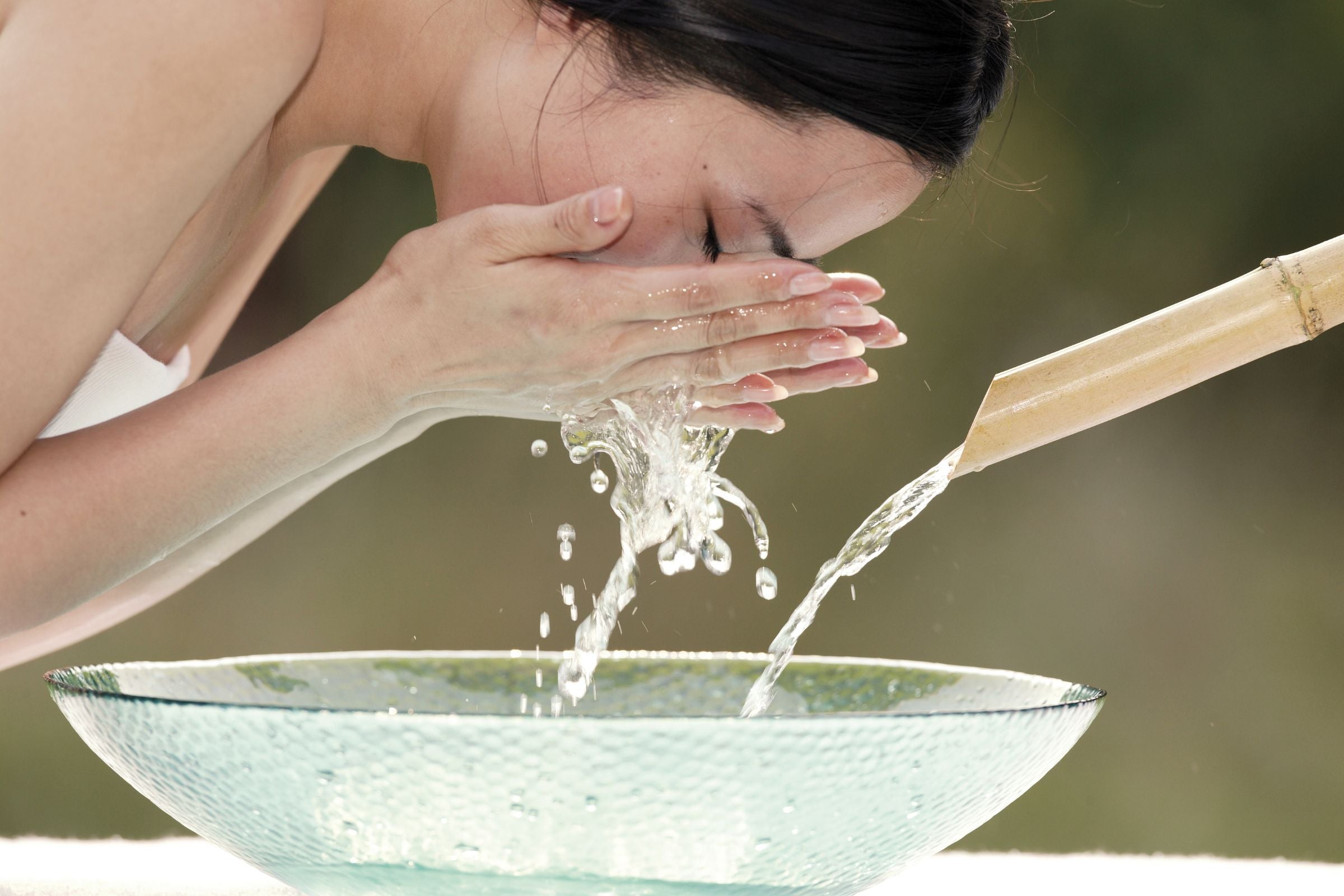 Safety and Skin Precautions
Generally, cleansing balms are suitable for all skin types, including oily, dry, combination, sensitive, and mature skin. However, as with using skincare products for the first time, and especially if you have sensitive or reactive skin, you might experience potential skin reactions or sensitivities. This makes it essential to choose a cleansing balm that is formulated for your specific skin type or concerns.
For example, if you have acne-prone skin, opt for a non-comedogenic cleansing balm that won't clog your pores. Most people tolerate cleansing balms well, but potential side effects or reactions can include breakouts or acne. This can occur if the balm is not fully removed or if it contains ingredients that clog pores. Don't fret – our formulas are non-pore clogging!
Some conventional balms might strip the skin and cause dryness and tightness if not followed with a moisturizer. This is especially important if you have patched or sensitive skin, and you're using the cleansing balm as a treatment mask. Always perform a patch test first to ensure you don't have any adverse reactions.
Frequently Asked Questions About a Cleansing Balm
Are cleansing balms suitable for all skin types, including sensitive skin?
Generally, natural cleansing balms are suitable for all skin types. However, it's important to choose a balm that addresses your specific skin type and concerns. Different natural ingredients have varying effects on the skin, so it's crucial to understand your skin type and research which natural ingredients are best suited for you. For example, oily skin may benefit from ingredients like degreasing blood orange, while dry skin may benefit from ingredients like coconut or olive oils.
Always perform a patch test before using a new product to ensure you don't have any adverse reactions.
How often should I use a cleansing balm?
The frequency of using a cleansing balm depends on your skincare needs and preferences. For those who wear makeup or sunscreen daily, using a cleansing balm every evening as the first step in a double-cleansing routine can be beneficial. If you don't wear makeup or have a lighter skincare routine, you might choose to use it every other day or a few times a week. Listen to your skin and adjust accordingly.
Does cleansing balm replace any steps in my existing routine?
A cleansing balm is an oil-based cleanser with a solid-to-oil texture, designed to break down makeup, sunscreen, and other oil-based impurities. It's often used as the first step in a double-cleansing routine, and then followed with a natural face cleanser and the rest of your skincare products in your routine.
You can also use the cleansing balm alone to replace a natural facial cleanser. This is useful if you don't wear makeup or have a lighter skincare routine
Are there any long-term effects of consistently using a cleansing balm?
Cleansing balms work wonderfully for many skin types because, compared to foaming or gel cleansers, they deliver an immediate increase in moisture to the skin. Plus, they're gentler at removing makeup. This can help keep the skin nourished and softened during the dry, cold months or keep excess oil at bay during the sizzling summer months.
Is there ever a bad time for a new cleanser? Maybe our go-to cleanser is running a bit low, or as our skin changes with the seasons, our routine shifts a bit to make room for what's fresh. On the menu now in the beauty world are cleansing balms: creamy cleansers that can multi-task and gently remove makeup and impurities, while leaving the skin feeling soft yet restored.
Whether you use a cleansing balm to replace your facial cleanser or integrate it as a beauty hack to mask away signs of dull skin, these creamy-dreamy formulas make the entire getting ready and unready process so much easier.
On the scope of the evolving landscape of natural beauty hacks, it's great that cleansing balms provide alternatives to conventional beauty products containing synthetic chemicals. These hacks work by harnessing the beneficial properties of natural ingredients to address various beauty concerns at once. That alone earns their place in modern skincare.
As this landscape continues to grow, it's important to maintain an open yet discerning approach to new techniques, products, and ingredients. Natural beauty hacks can generally be used on all skin types, but it's important to consider individual sensitivities and allergies. Research the ingredients thoroughly to ensure their safety and compatibility with your skin type.
So, are cleansing balms kind of a skincare oxymoron? You can be the judge of that. But it will be the best one you'll try!